The Water of Tyne − Breizh Partitions
Partitions gratuites et libres

The Water of Tyne
The Water of Tyne est une partition de chanson (origine : Angleterre) arrangée pour chant et piano. La musique est traditionnelle, et a été composée en 1893. Cette partition a été arrangée dans une tonalité de ré majeur.
Télécharger
Vous pouvez télécharger cette partition gratuite pour chant et piano ci-dessous :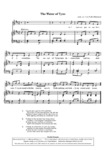 I cannot get to my love if I would dee,
The water of Tyne runs between him and me;
And here I must stand with the tear in my e'e,
Both sighing and sickly my sweetheart to see.

O where is the boatman? my bonny hinny!
O where is the boatman? bring him to me,
To ferry me over the Tyne to my honey,
And I will remember the boatman and thee."

O bring me a boatman, I'll give any money,
And you for your trouble rewarded shall be,
To ferry me over the Tyne to my honey,
Or scull him across that rough river to me.


Proposez vos partitions
Vous avez des partitions libres de droits dans vos cartons ? Vous pouvez les proposer facilement (et gratuitement, évidemment) par ici !
Les partitions disponibles sur ce site sont téléchargeables gratuitement, et sont utilisables dans le cadre de leur licence.
Si vous estimez qu'une partition ne devrait pas se trouver sur ce site, contactez le webmestre et elle sera aussitôt retirée.