Eanach Dhúin − Breizh Partitions
Partitions gratuites et libres

Eanach Dhúin
Eanach Dhúin est une partition de complainte (origine : Irlande) arrangée pour low whistle. La musique a été composée par Antoine Ó Raifteiri en 1828 environ. Les paroles de cette partition ont été écrites par Antoine Ó Raifteiri. Cette partition a été arrangée dans une tonalité de mi mineur par Antoine Ó Raifteiri et David@Roazhon.
| | |
| --- | --- |
| Compositeur | Antoine Ó Raifteiri (1828 environ) |
| Auteur des paroles | Antoine Ó Raifteiri |
| Arrangeur | Antoine Ó Raifteiri et David@Roazhon |
| Transcrit par | David@Roazhon |
| Origine | Europe > Irlande |
| Genre | Complainte |
| Instruments | Low whistle |
| Tonalité | Mi mineur |
| Rythme | 3/4 |
| Téléchargements | 5054 |
| Licence | Creative Commons BY-SA |
Télécharger
Vous pouvez télécharger cette partition gratuite pour low whistle ci-dessous :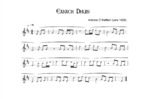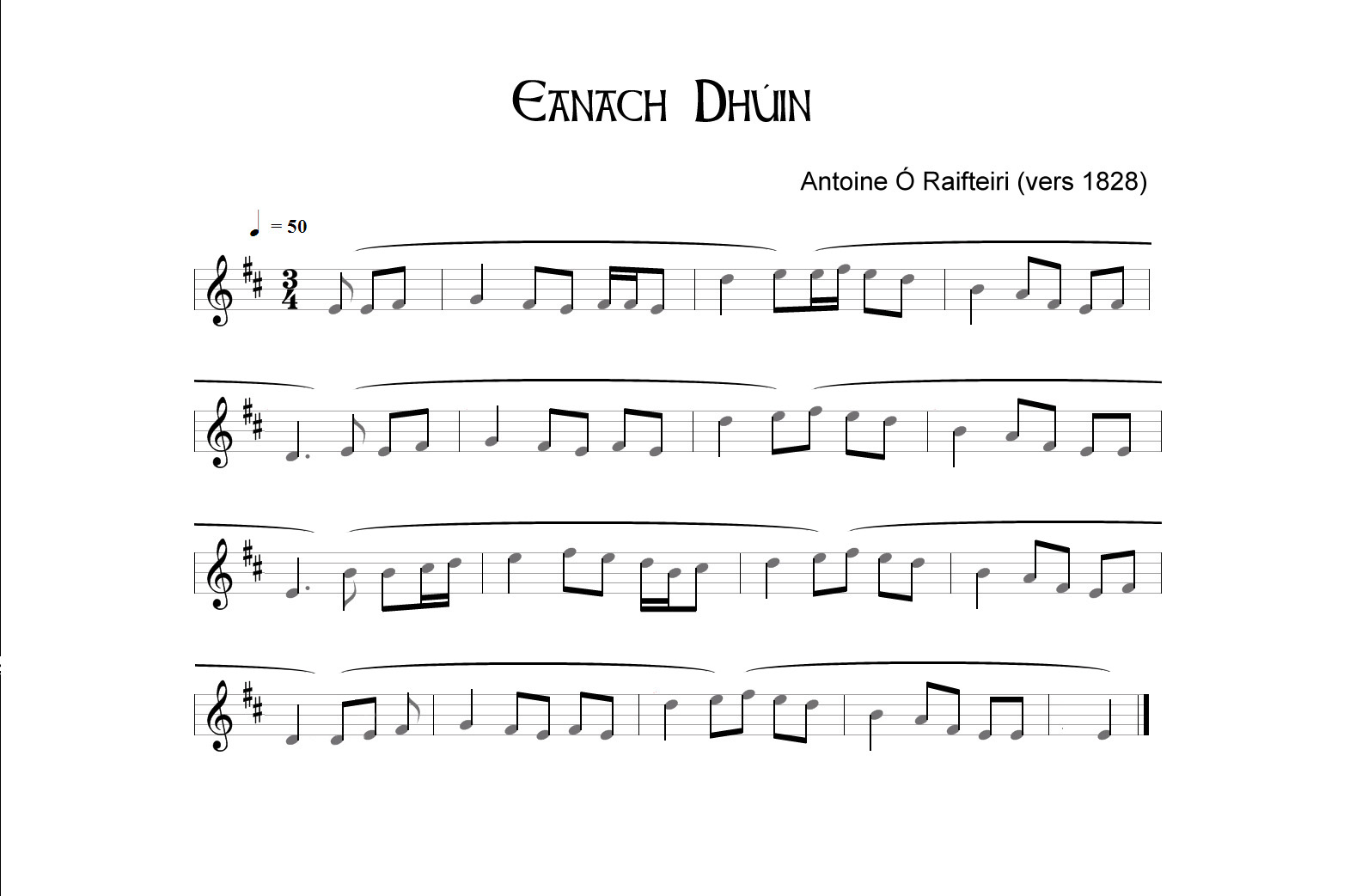 ---
_________________________________________________
	Eanach Dhúin
_________________________________________________

Má fhaighimse sláinte is fada bheidh trácht

    Ar an méid a bádh as Eanach Dhúin.
    'S mo thrua 'márach gach athair 's máthair
    Bean is páiste 'tá á sileadh súl!
    A Rí na nGrást a cheap neamh is párthas,
    Nar bheag an tábhacht dúinn beirt no triúr,
    Ach lá chomh breá leis gan gaoth ná báisteach
    Lán a bháid acu scuab ar shiúl.

Nár mhór an t-íonadh ós comhair na ndaoine

    Á bhfeicáil sínte ar chúl a gcinn,
    Screadadh 'gus caoineadh a scanródh daoine,
    Gruaig á cíoradh 's an chreach á roinnt.
    Bhí buachaillí óg ann tíocht an fhómhair,
    Á síneadh chrochar, is a dtabhairt go cill.
    'S gurb é gléas a bpósta a bhí dá dtoramh
    'S a Rí na Glóire nár mhór an feall. 

_________________________________________________
	Traduction anglaise
_________________________________________________	

If my health is spared I'll be long relating

    Of that boat that sailed out of Anach Cuain.
    And the keening after of mother and father
    And child by the harbour, the mournful croon!
    King of Graces, who died to save us,
    T'were a small affair but for one or two,
    But a boat-load bravely in calm day sailing
    Without storm or rain to be swept to doom.

What wild despair was on all the faces

    To see them there in the light of day,
    In every place there was lamentation,
    And tearing of hair as the wreck was shared.
    And boys there lying when crops were ripening,
    From the strength of life they were borne to clay
    In their wedding clothes for their wake they robed them
    O King of Glory, man's hope is in vain. 
Droits de cette partition
Cette partition Eanach Dhúin est téléchargeable gratuitement.
Elle est disponible sous une licence creative commons CC-BY-SA. Cette licence (la même que sur Wikipédia) permet la modification de la partition, sa réutilisation et sa republication, à condition d'en citer l'auteur et de republier la partition modifiée sous la même licence. Et tout ça gratuitement.
Vous pouvez jouer la musique de Eanach Dhúin en public (pour low whistle, ou bien arrangée pour tout autre instrument de votre choix), et ce sous les mêmes conditions.
Proposez vos partitions
Vous avez des partitions libres de droits dans vos cartons ? Vous pouvez les proposer facilement (et gratuitement, évidemment) par ici !
Les partitions disponibles sur ce site sont téléchargeables gratuitement, et sont utilisables dans le cadre de leur licence.
Si vous estimez qu'une partition ne devrait pas se trouver sur ce site, contactez le webmestre et elle sera aussitôt retirée.