The Minstrel Boy − Breizh Partitions
Partitions gratuites et libres

The Minstrel Boy
The Minstrel Boy est une partition de chanson (origine : Irlande) arrangée pour chant et piano. La musique est traditionnelle, et a été composée en 1800 environ. Cette partition a été arrangée dans une tonalité de fa majeur.
| | |
| --- | --- |
| Compositeur | Traditionnel (1800 environ) |
| Origine | Europe > Irlande |
| Genre | Chanson |
| Instruments | Chant, piano |
| Tonalité | Fa majeur |
| Rythme | 4/4 |
| Téléchargements | 7448 |
| Licence | Domaine public |
Télécharger
Vous pouvez télécharger cette partition gratuite pour chant et piano ci-dessous :
The Minstrel Boy - 1 / 2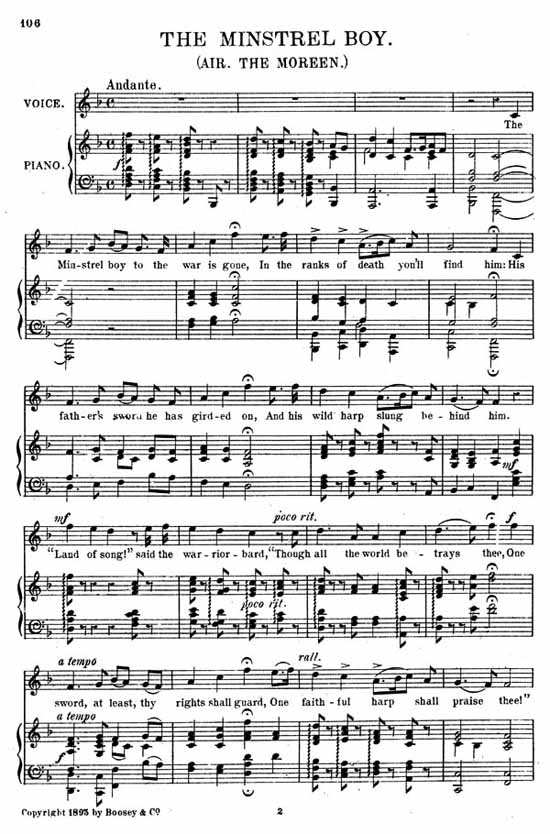 ---
The Minstrel Boy - 2 / 2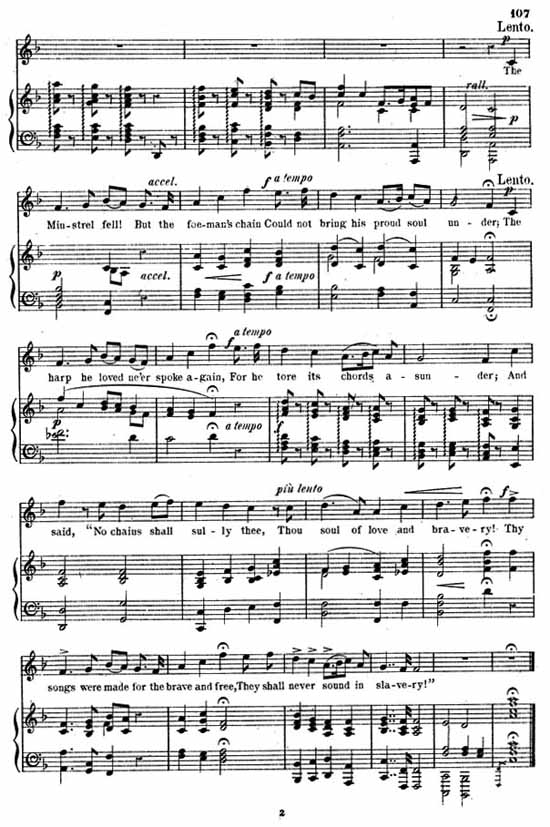 ---
The minstrel boy to the war is gone,
In the ranks of death ye will find him;
His father's sword he hath girded on,
And his wild harp slung behind him;
"Land of Song!" said the warrior bard,
"Tho' all the world betray thee,
One sword, at least, thy rights shall guard,
One faithful harp shall praise thee!"

The Minstrel fell! But the foeman's chain
Could not bring his proud soul under;
The harp he lov'd ne'er spoke again,
For he tore its chords asunder;
And said "No chains shall sully thee,
Thou soul of love and bravery!
Thy songs were made for the pure and free
They shall never sound in slavery!"


Proposez vos partitions
Vous avez des partitions libres de droits dans vos cartons ? Vous pouvez les proposer facilement (et gratuitement, évidemment) par ici !
Les partitions disponibles sur ce site sont téléchargeables gratuitement, et sont utilisables dans le cadre de leur licence.
Si vous estimez qu'une partition ne devrait pas se trouver sur ce site, contactez le webmestre et elle sera aussitôt retirée.